Your order will ship within 1 business day (Mon-Fri only, excluding Federal holidays).  An email with the tracking is automatically sent when we print the label.
Expect delivery in 2-4 days.  We ship from California to US addresses only

Most orders ship USPS but depending on the item(s), we may use UPS or FedEx Ground services


Tracking numbers (re order shipped email)

These are the formats for each carrier. 

USPS:   9400111600000000000000   
FedEx:  775200000000
UPS:     1Z606A5Y0000000000


1pc Free Float Handguards
All ship with the barrel nut inside the handguard.  Look for threads inside the handguard - that's the barrel nut.  Loosen screws to remove it and begin install.

The product shown in the guide (link above) and pictured below is the carbine .223 version but the instructions apply for all lengths and for .308 2pc also.
- Pay particular attention to the orientation of each section.  Top section has three rails... both sections have a bevelled edge at the rear - the delta ring butts up against the handguard there.

- Round / triangle end caps require different shaped handguards (see bottom section of diagram below).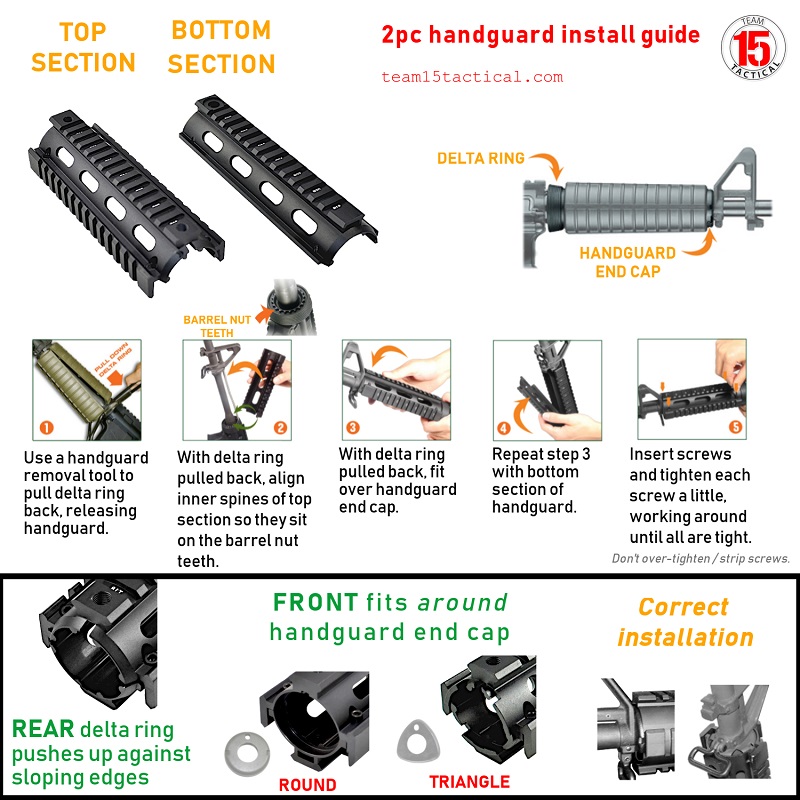 ---
308 DPMS Low vs DPMS High - LR308
For LR-308 upper receivers, sometimes called AR 308, how do you check if you have a DPMS Low or High Profile Pattern Upper receiver?
The difference is the thickness of the upper receiver tang, found at the rear of the upper receiver.  It's where the charging handle is located: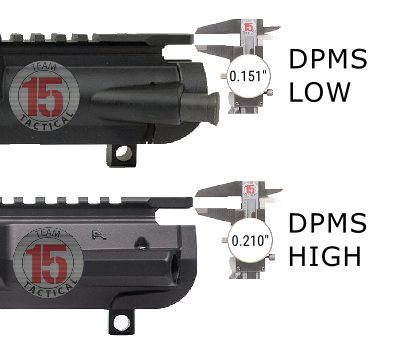 A tang measurement of

0.151"

or 5/32" is DPMS

Low

Profile
A tang measurement of 0.210" or 13/64" is DPMS
High

Profile


If the rear edge of the upper receiver is not curved like the ones above, it's probably an Armalite AR-10 which is a different fit (our handguards will not work).


Once you know, you can shop for free float handguards using the link below and select Low or High DPMS as appropriate.  
---