30mm Dia. Medium Profile Scope Rings for Picatinny Rail System - Aluminum - Black
Description
Set of two Medium Profile Scope Rings for 30mm diameter scope body (1.18").

Attaches securely to a standard Picatinny rail system, as below: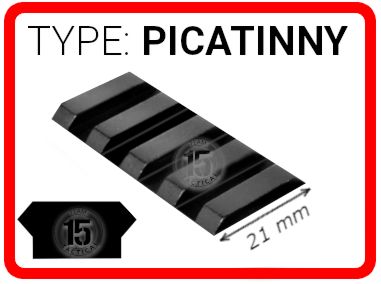 Not for 1" scopes (25.4mm) or for Dovetail rails which are narrower (e.g. 3/8" 0.375")
MEDIUM PROFILE
Base to center of ring: 28.3 mm / 1.14"



Also available in Low or High Profile

LOW PROFILE  Base to center of ring: 24.5mm / 0.96"  

HIGH PROFILE Base to center of ring: 35.6 mm / 1.40"

- 4 screws per ring, hex keys included (ready to mount)
- Holds zero


Choosing the right rings for your scope:
Measure the front diameter of your scope (a.k.a. bell diameter), including lens cap:



Divide by 2 and add 2mm for clearance.  

E.g. one of our 44mm scopes = 56mm bell diameter (inc. caps) + 2mm = 58mm / 2 = 29mm would require High Profile rings (use Base to center of ring)
 
This calculation shows the minimum required height clearance and does not factor shooter preference etc.
Reviews