10.5" Extended 3pc Drop-in (Not 2pc) for AR-15 Carbine .223 5.56, + Free Tool
Description
10.5" Extended 3pc Drop-in for AR-15 Carbine .223 5.56
** ONLY WORKS with carbine length AR-15s fitted with A2 front sight post and round end cap**


** Does not work with railed gas blocks, needs front sight post **
Removes limitations of the short carbine system by adding a third section which fits in front of the front sight post. 

Skip adding a 2pc 6.7" and go right to 10.5" instead.  Just as easy to install but with extra rail space past the front sight post.  Especially good for mounting a bipod.
 
Great upgrade from normal 6.5" inch 2pc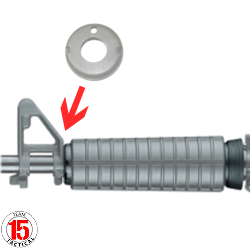 - Fits AR-15 .223 / 5.56
- For carbine length systems.  

- Replacement for 2pc drop-in

- Easy install, no gunsmithing required
- Requires front sight post - will not work if you don't have one (see photo #2)
 - 6061-T6 Aluminum - tough and strong
 - 18oz
INCLUDES:  Delta Ring Lever (2pc/3pc Handguard Removal Tool) 
Reviews