Skeletonized Pistol Brace for AR-15 - Black / Red / Blue / Silver / Gold - Optional Pistol Buffer Tube or Buffer Tube Kit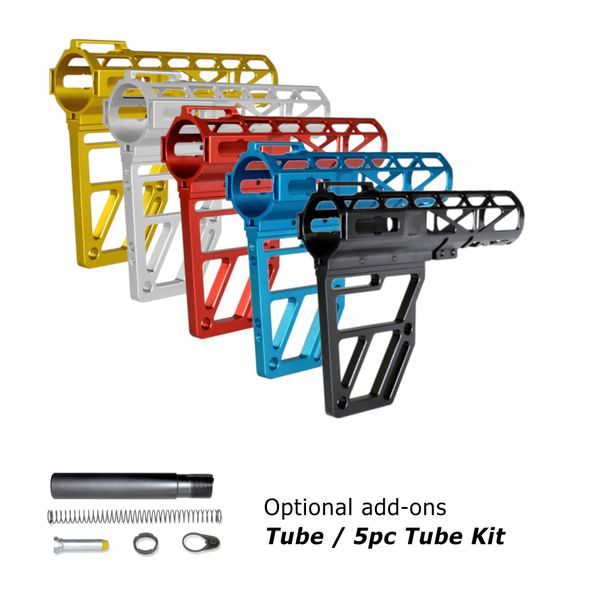 Description
Fits AR Pistol Buffer tubes with outer diameter OD of 1.24"

This is a clamp-on fin which tightens securely onto the tube.  Comes in two parts.  Made from 2pc anodized aluminum alloy - the whole thing weighs only 4.7 ounces!   Fin can be pressed against forearm for stable shooting.

6.25" x 5" x 1.70"

Buying options:

Choice of 5 colors:   Black / Blue / Red / Silver / Gold

If you don't have a 1.24" OD round pistol tube, you have the option to add that OR a full 5pc buffer tube kit.   You can also order just the brace.  Most commonly used with carbine spring & buffer.


Choice to add on a Pistol Buffer Tube OR 5pc Pistol Buffer Tube Kit     (both optional)

Summary of what's included, depending on your selection

Skeletonized AR Pistol Brace

Skeletonized Pistol Brace + Pistol Buffer Tube:



Skeletonized Pistol Brace + Pistol Buffer Tube KIT:

Skeletonized AR Pistol Brace, pistol buffer tube, carbine recoil spring, carbine recoil buffer, castle nut, receiver end plate     




Note:
Brace is not suitable for Mil-Spec, Commercial or A2 Rifle buffer tubes.  Only works with round tubes that have an outer diameter of 1.24".

* Colors vary between products and sometimes even different batches of the same item. 
Please don't expect this red to match a red from a different product. Thank you.


It is the buyer's responsibility to ensure they are compliant with laws and regulations before purchase. That includes local, state and federal laws.


---


Reviews