Skeletonized Buttstock for Mil-Spec Adjustable Tubes - CA Legal Fixed - Black, Anodized Aluminum [AAST21]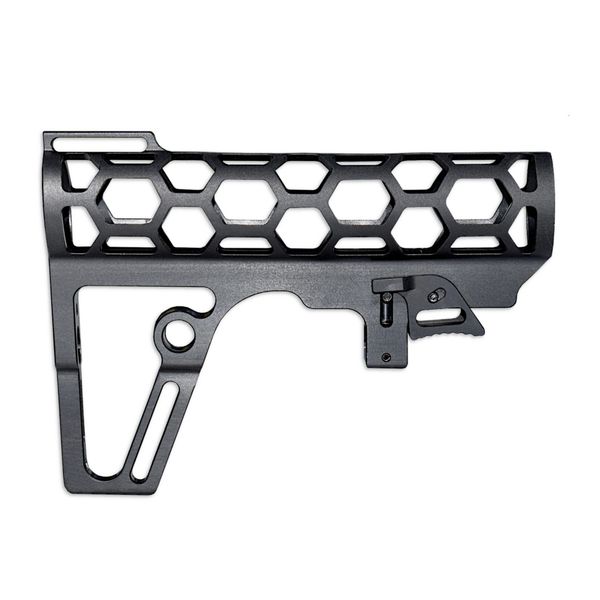 Description
Presma CA Legal Fixed Skeletonized Buttstock for Mil Spec Adjustable Tubes - Black Anodized Aluminum        [AAST21]
Model: AAST21

Fits AR Adjustable Mil-Spec Buffer Tube (not included)
- Trigger style adjustable set up
- Anodized aluminum alloy
- 2 M-LOK slots (left/right sides)
- 4.6 ounces weight
- 2 Quick Detach slots (left/right sides)

- 5.5 inches height

- Fits 6 Position Mil-Spec Buffer Tube
- Black, anodized aluminum
- Made in the USA   
SKU:  AAST21
New from Presma!  Super lightweight Skeletonized 1 Piece Aluminum Construction. Fits Military Spec Adjustable Buffer Tubes.  Upwards trigger lock type adjuster.  Set screw on the bottom locks in the buffer tube to make CA compliant fixed stock.  Made in the USA!
Weight: 4.6 oz
Overall Height: 5.5"
Length: 7"
Black Anodized (colors may vary from batch to batch and screen to screen)
1 QR Release Hole and Strap Slots
Fits: Mil Spec 6 Position Adjustable Buffer Tubes
Buy buttstock by itself or ADD Mil-Spec Buffer Tube Kit and/or Polyrubber Buttpad (price changes)

Option 1:  Add Mil-Spec Buffer Tube
- AR-15 Mil-Spec Buffer Tube, 6 position

Option 2:  5pc Mil-Spec Buffer Tube KIT
- AR-15 Mil-Spec Buffer Tube, 6 position
- Carbine Recoil Buffer (3 oz, 3.25")
- Carbine Buffer Spring
- AR Receiver End Plate
- AR Castle Nut / Buffer Tube Locking Ring
---
Compatible with: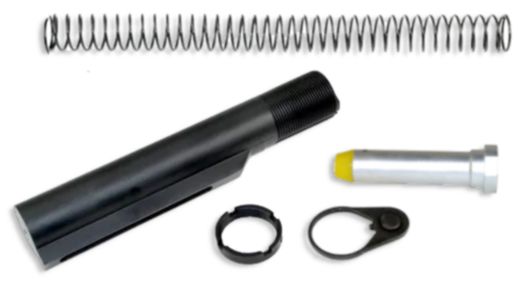 Note:

- Stock fits Mil-Spec Adjustable buffer tubes only (links to tube and tube kit above)

- Colors vary between products and sometimes even different batches of the same item.  Don't expect to match colors.

- It is the buyer's responsibility to ensure they are compliant with laws and regulations before purchase. That includes local, state and federal laws.
Reviews