New! Skeletonized Mil-Spec Buttstock for Adjustable Tubes - Made in USA - Red Anodized Aluminum
Description
Presma Skeletonized Buttstock for Mil Spec Buffer Tubes, Red color
Model: AAST25-R

Fits AR Adjustable Mil-Spec Buffer Tubes only

- Trigger style adjustable set up
- Anodized aluminum alloy
- 2 M-LOK slots (left/right sides)
- 2 Quick Detach slots (left/right sides)
- 7" x 5.5" x 1.70"
- 9 ounces

Option:  5pc Mil-Spec Buffer Tube KIT  (price changes)

- AR-15 Mil-Spec Buffer Tube, 6 position, Anodized Aluminum (Made in USA)
- Carbine Recoil Buffer (3 oz, 3.25")
- Carbine Buffer Spring
- AR Receiver End Plate (Steel)
- AR Castle Nut / Buffer Tube Locking Ring



Compatible with:

Mil-Spec Buffer Tube - Made in USA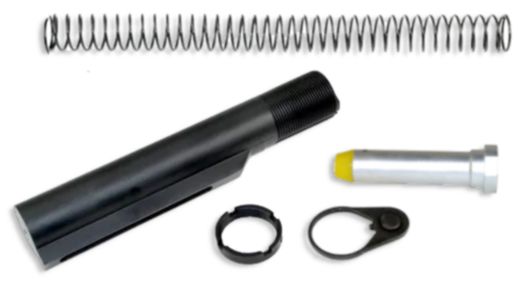 Note:

- Stock fits Mil-Spec Adjustable buffer tubes only (links to tube and tube kit above)

- Colors vary between products and sometimes even different batches of the same item.  Don't expect to match colors.

- Last photo is from a customer and is shown for illustrative purposes only
- It is the buyer's responsibility to ensure they are compliant with laws and regulations before purchase. That includes local, state and federal laws.
Reviews