AR-15 .223/5.56 Front Sight Post Tri Rail Barrel Mount w/ Spacers [2pc Drop In Handguard Setup]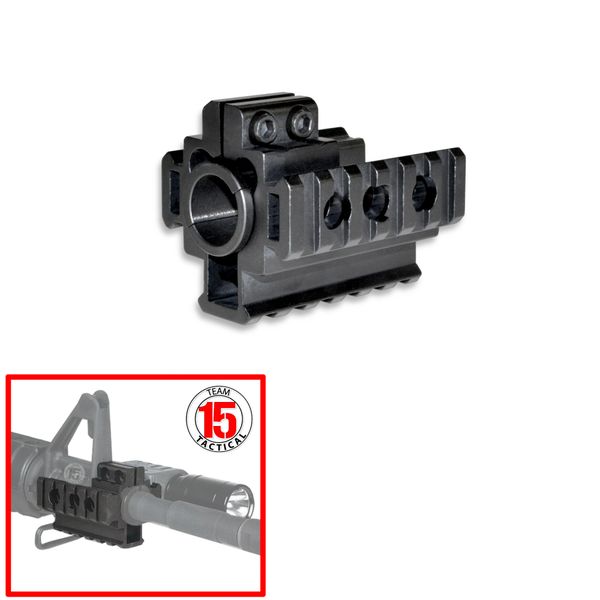 Description
AR-15 Tri Rail Barrel Mount for Front Sight Post  
Model: MBRTR
Fits 0.750" and 0.69" barrels (outer diameter at front sight post)
- before buying, please check that your barrel is either of these.

Important:
Will not work without a front sight post installed - see image below: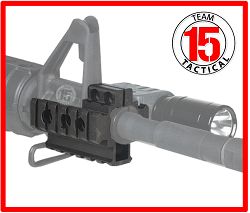 Not for railed gas blocks.  (It would look strange because of the gap where the sight post goes)

What is it?
A tri-rail that is designed to fit around the standard AR-15 front sight post (see image inside red box, main picture).
- Extra space for accessories without gunsmithing or changing handguard to a free float
- Adds accessory mount rails on left, right and bottom (Picatinny) - Includes space for the sling adapter hoop.  
I
nstallation
1.  Do not loosen screws so far that they come out of the threads - not necessary and you'd just have to put them back in!
2.  Slide mount over barrel.  Heads of allen screws will be top and left (see main photo).
3.  Push up against front sight post *
4.  Tighten screws, alternating between each one, tightening a little until both screws are tight and mount is secure.
Spacers

It's easier to slide the spacers on, after step #3 (when the mount is up against the front sight post).  Always before tightening screws.
- Lip of spacers should face forwards (see main photo).
- Mount will slide over barrel, then just tighten it.
Measurements

2.6" x 2.0" x 2.2"   (L x W x H)
See picture #3 for internal measurements  
Weight: 3.4 ounces  

Reviews